Surfix Fender Cleat
$19.65 each
FREE SHIPPING in CONTINENTAL USA
The Surfix fender cleat can be used in any gunnel rod holder to quickly add a fender when you dock. When the fishing or catching is done your gunnel rod holders are available but you have nowhere to tie the fender line to dock and weigh in. A convenience well worth the $19.65 for each fender cleat.
Just drop the fender cleat into an available rod holder, slip the fender line through and add a cleat hitch knot. The Surfix fender cleat is made from marine grade polymer to take years of wear from sun, salt and abuse.
These can be used in rod holders having a centering pin stop from 8 to 9 ½ inches. Please note these are not designed to secure or anchor boat.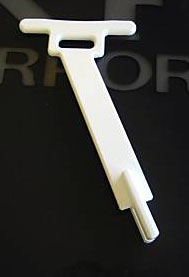 All products made in the USA.